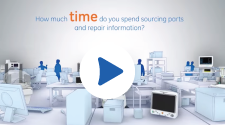 Service Shop Video
Service Shop from GE Healthcare offers direct access to GE medical equipment parts and productivity tools.
Parts Identification Tool
Search by:
Product Name: Power Supply
or
Part #: 801674-001
or
Keyword: Solar
Note:
Part numbers do change over time. Be sure to try other keywords if your first search is unsuccessful.